Track the Status of Every Important Piece of Equipment in your Organization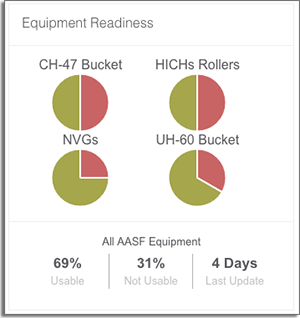 The equipment readiness tool within the Aviation Status application provides an illustration of the true readiness of your equipment. As equipment is added to be tracked, the overall status metric is updated to provide a more holistic understanding of the organization's equipment readiness.
Track Anything With Ease

Consideration was given to how and what equipment an Army Aviation organization might want to track. The tool does not discriminate. In fact, any managed element can be tracked as long as the status is updated regularly. For example, most organizations are not fully aware of the status of their NVGs up / down status. The equipment readiness tool gives the users the ability to add each item by serial number, add comments and set status values. As each NVG item is added to a category, the system calculates the percent of up vs. down. Tracking equipment in this manner is critical as units mobilize or have NVG intensive drills / AT.
Display Equipment for the Flight Schedule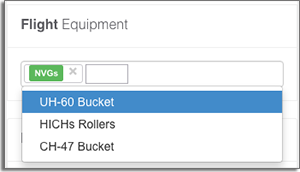 The equipment readiness tool allows for items to be selectable within the flight schedule tool. As you add tracked items to the application, items may be presented for scheduled flights. Items like NVGs, Water Buckets, Hood's etc can be set for selection in the flight schedule tool.
Present only critical items on the front page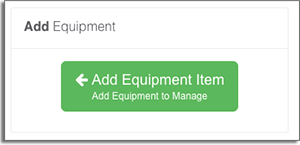 The user can set a particular tracked item for presentation on the front page of the Aviation Status application. This will keep only priority and relevant equipment categories in the forefront without cluttering the front page.